Aea Research Timeline Emu Oil
American Emu Association
Emu Oil Research Timeline  1994 -2009
In 1988 there were 50 emu farmers in the United States. The American Emu Association was formed in 1989. Prior to 1994, all research sponsored by AEA was for emu health.
Oil Research Timeline:
1994
AEA partners with Auburn University to do research on the Fatty Acid Analysis of Emu Oil, which is to be published in Highlights of Agricultural Research and other peer reviewed journals.
AEA sponsored study Moisturizing and Cosmetic Properties of Emu Oil: A Double. Blind Study -Zemtsov A, Gaddis M, Montalvo-Lugo VM is presented at the AEA Convention. It is published in peer-reviewed journal in 1997.
1995
AEA partnered with Auburn University in 1994 to do study: Fatty Acid Analysis if Emu Oil –Margaret C. Craig-Schmidt, Ph.D., Amanda Brown MS., Paul C. Smith. D.V.M, Ph.D. Auburn University -published in INFORM 6:450 (1995)
AEA announces agreement to sponsor a 6 to 8 month burn study at the Timothy J. Harnar Burn Center. Dr. John Griswold, Director of the Center.
Emu Oil Processing and Properties -E. Hernandez. Ph.D. Food Protein Research Development Center, Texas A&M University is printed in AEA News November 1 5 to give members an overview of oil processing.
1996
AEA enters major research project with Iowa State to characterize the chemical composition of emu oil and meat, the eating qualities of meat from both male and female fed diets rich in a saturated or unsaturated fat. Work expected to be completed in late 1997.
1997
John Griswold of Harner Burn Center (Texas Tech) summed up preliminary findings in a study begun in 1995 and requests extension of 18 months to study full term of healing.
Auburn Phase Two Transdermal Study -The transdermal enhancing capacity of emu oil was not significant for cadaver tissue, indicating that live tissue studies might yield different results.
University lowa (Health, Physical Education and Leisure Services) requests that AEA participate in a sports related research project to study emu oil as an anti-inflammatory topical
AEA sponsored study Moisturizing and Cosmetic Properties of Emu Oil: A Double Blind Study -Zemtsov A, Gaddis M. Montalvo-Lugo VM is published in the Australian journal of Dermatology 1997 May; 38(2):104.
Oil Standards Committee creates International Emu Oil Guidelines. The predecessor of the Emu Oil Trade Rules.
American Oil Chemists Society Convention (AOCS) -May 13. Seattle Presentations made:
International Emu Oil Guidelines presented by Jesse Covey
Ratite Oils: Processing and Applications presented by Dr. William Code (See also Emu Cream Assists Lidocaine: Local Anesthetic Absorption Through Human Skin)
Processing of Oils for Cosmetic and Pharmaceutical Uses: Applications to Ratite Oil-presented by Dr. Ernesto Hernadez. '
Fatty Acid Composition: Comparative Analysis of Emu, Ostrich and Rhea Oil Craig-Schmidt and K. R. Willian, Department of Nutrition and Food Science, Auburn University.
1998
Media mailing of skin care and oil products sent to 150 magazine editors via Londre Company
Burn Study: Evaluation of Emu Oil in Lubrication and Treatment of Healed Burn Wounds Penturf, Ph.D., RD; S. O'Banion, R.Ph.; and J. Griswold, MD.-Timothy J. Harner Burn Center, Texas Tech. and funded by AEA was presented as a poster presentation March 18-21, 1998 during the American Burn Association annual meeting.
AEA has presence for second year at AOCS:
Ratite Farming: Birds from the Past, Industry of the Future -Maria Minnair, Nyoni Publishing
Impact of Two Different Dietary Fats on the Composition of Emu Oil –L.M. Beckem.uer_ J. L. Sell and D. C. Beitz, Iowa State University
Emu Oil Influences on Skin Thickness in Older Individuals -Leigh Hopkins for the AEA and Peter T. Pugliese, The Pugliese Group.
Techniques for Processing and Refining of Emu Oil-Waller Farr, Owensboro Grain Company
Application of Absorbent Technology to Ratite and Other Oils -E. Hernandez and S. J. Rathbone, Texas A&M University
Comparison of EM:A (Eutectic Mixture of Local Anesthetics) with and without Emu Oil in the Onset and/or effectiveness of Topical Anesthesia – William E. Code, M. Rooney, D. Rivlin, J. BrumIik, and R. Yip – University of Saskatchewan, and Canadian Emu Oil Ltd.
Emu Oil Certification Program – Jesse E. Covey, Jesse Covey Consultants' and Gordon Grabill, Pond View Emu.
Presenting the Facts about the Capabilities of Emu Oil and Emu Oil Products – Leigh Hopkins for Darrell Good, Health Renu Company.
1999
The AEA board mans first booth at the American Oil Chemists Society convention to promote and educate the chemists, oil specialists, scientists and pharmacists of the world
2000
Frank Orthoefer suggests AEA look at pilot studies on cholesterol, anti-inflammatory and transdermal. He was already having UMASS work on a cholesterol study for another oil and asked Dr. Bob Nicolosi to run emu oil as one of the other oils. The results were remarkable. Dr. Nicolosi suggested repeating the study with olive oil known to lower cholesterol).
UMass does Studies on the cholesterol lowering, anti-inflammatory and transdermal effects of emu oil.
The AEA board continues to man a booth at the AOCS convention to promote and educate the chemists, oil specialists, scientists and pharmaceuticals of the world on emu oil.
AEA sent emu oil to the Olympics in Australia with the Track & Field. Sailing, Bicycling and Volleyball Teams.
AEA sends 29 emu eggs with teaser cards to major media talk: shows and news prior to them receiving a huge box of emu products (oil and meat).
AEA starts compiling a Doctor Allied Health Database of health professionals that use emu oil. The purpose is being able to network doctors together when a doctor calls the AEA office wanting to know about emu oil. They can then be referred to doctors who already have experience using the oil.
The AEA joined with a charity "Faith in Practice" in 2000 to promote the use of emu oil in with teams of traveling doctors to poverty stricken countries.
With the guidance and assistance of the American Oil Chemists Society (AOCS) established specifications for three grades of emu oil, crude, once-refined and fully refined. The Emu Oil Trade Rules replace the International Oil Guidelines.
2001
AEA sends emu oil to USA Olympic Athletes in Utah
Biathlon (winter)
Luge (winter)
The AEA board continues to man a booth at the AOCS convention to promote and educate the chemists, oil specialists, scientists and pharmaceuticals of the world on emu oil.
Biological Activity of Emu Oil – abstract presented by Dr. Bob Nicolosi
AEA takes Emu Oil Trade Rules a step further by creating the AEA Certified Fully Refined Emu Oil program and offers logo for consumer reassurance.
2002
The AEA board continues to man a booth at the AOCS convention to promote and educate the chemists, oil specialists, scientists and pharmaceuticals of the world on emu oil.
2003
Fire Department Oil Donations -members across the country are encouraged to donate emu oil to local fire departments
AEA sponsored emu oil research presentations by Dr. Frank Orthoefer at World NutraceuticaJs Conference in Las Vegas in September.
AEA sponsored study Antagonism o/Croton Oil Inflammation by Topical Emu oil in CD-J Mice, Yoganathan S, Nicolosi R. Wilson T, Handelman G, Scollin P, Tao R. Binford P, Orthoefer F -published in Lipids, Vol3g, 00. 6 (2003)
2004
AEA co-sponsors (with AOCS) the "Specialty Oils Conference", a well-attended international conference on specialty oils, held just prior to the AOCS convention. AEA sponsored research and Dr. Frank Orthoefer presents information about emu oil at this conference.
Comparative Effects of emu and olive oil On aortic early atherosclerosis and associated risk factors in hypercholesterolemic hamsters -Wilson T.A. , Nicolosi R J., Handelman G., Yoganathan S., Kotyla T., Orthoefer F., Binford P. -published in Nutrition Research 24 (2004) 395-406
The AEA board continues to man a booth at the AOCS convention to promote and educate the chemists, oil specialists, scientists and pharmacists of the world on emu oil.
Bob Nicolosi does a poster presentation on current oil research sponsored by AEA.
AEA Begins discussions with university about human trial studies.
AEA is asked by SUSTA to provide information on emu oil production in the US for their use in developing a new marketing reimbursement program.
AEA Oil Research Committee investigates feasibility of developing Oil Stability Tests as step towards establishing a shelf life for products, as well as oil fingerprinting.
AEA Oil Research Committee works with PR Committee to create new brochure on fat handling. Result is "Facts for the Farmer: Guidelines for Handling and Storing Emu Fat"
2005
Frequently Asked Questions section of AEA website is reviewed and updated by the Oil Research Committee.
AEA is asked to provide guest speakers for a series of Toiletries, Soaps and Cosmetics Symposiums, which will be held around the country.
AEA represented at the 96th AOCS Annual Meeting & Expo on May 1-4, 2005 in Salt Lake City, Utah.
AEA partnered with a university to conduct human trial studies. We are currently waiting on a grant approval in order to proceed. A University in So. Africa will be conducting similar studies at the same time.
The Shelf Life Study on emu oil has begun. The study to determine insoluble impurities, color and OSI will begin at the same time. This study will complete the "To Be Determined" section of the Emu Oil Trade Rules.
AOCS publication -Inform, runs AEA press release "Are you buying counterfeit emu oil?" in the August 2005 edition.
AOCS publication -Inform, requests that AEA provide them with articles on emu oil and the emu industry.
Oil Research Committee updates the Emu Oil Trade Rules, recognizing Grade A (Fully Refined), B and C (Crude).
2006
AEA Website will be undergoing a major facelift. New sections planned for the website include public access areas providing information on emu farming, a Teacher Resource Center, nutrition and recipes. There will be a Research Library in the Members only section of the web containing: Research summary reports on emu oil, meat, leather and emu husbandry; Case studies and Presentation summaries.
2007-2009
Coming Soon …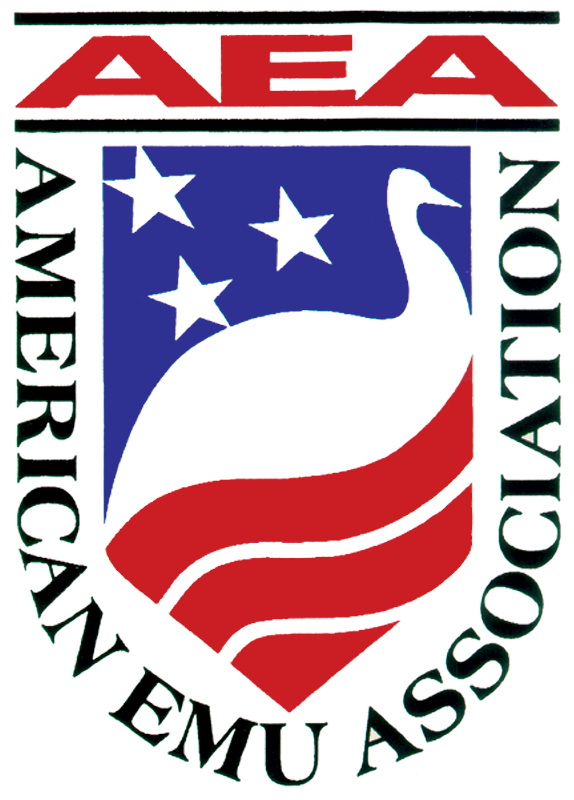 Founded in 1989, The American Emu Association is a non-profit trade association representing breeders, producers and marketers of emu meat, oil and other emu co-products. The emu industry is an alternative agricultural industry, dominated by the small farmer, who is devoted to humane and environmentally positive practices that will produce beneficial products for society. For more information about the American Emu Association (AEA) or the emu industry visit https://aea-emu.org or call 541-332-0675.