Frequently Asked Questions
The American Emu Association represents an alternative agriculture industry, dominated by the small farmer, who is devoted to humane and environmentally positive practices that will produce beneficial products for society. Emus are raised on feed formulated to optimize growth and in spacious pens providing ample room to grow. When the bird is processed, the layer of fat is removed and refined into a safe and stable oil, used in cosmetic and health products; the low-fat, mild flavored red meat is sold to health conscious consumers; the leather is crafted into beautiful goods. The American emu farmer is committed to sound farming practices, bringing the consumer quality products to enhance their lives.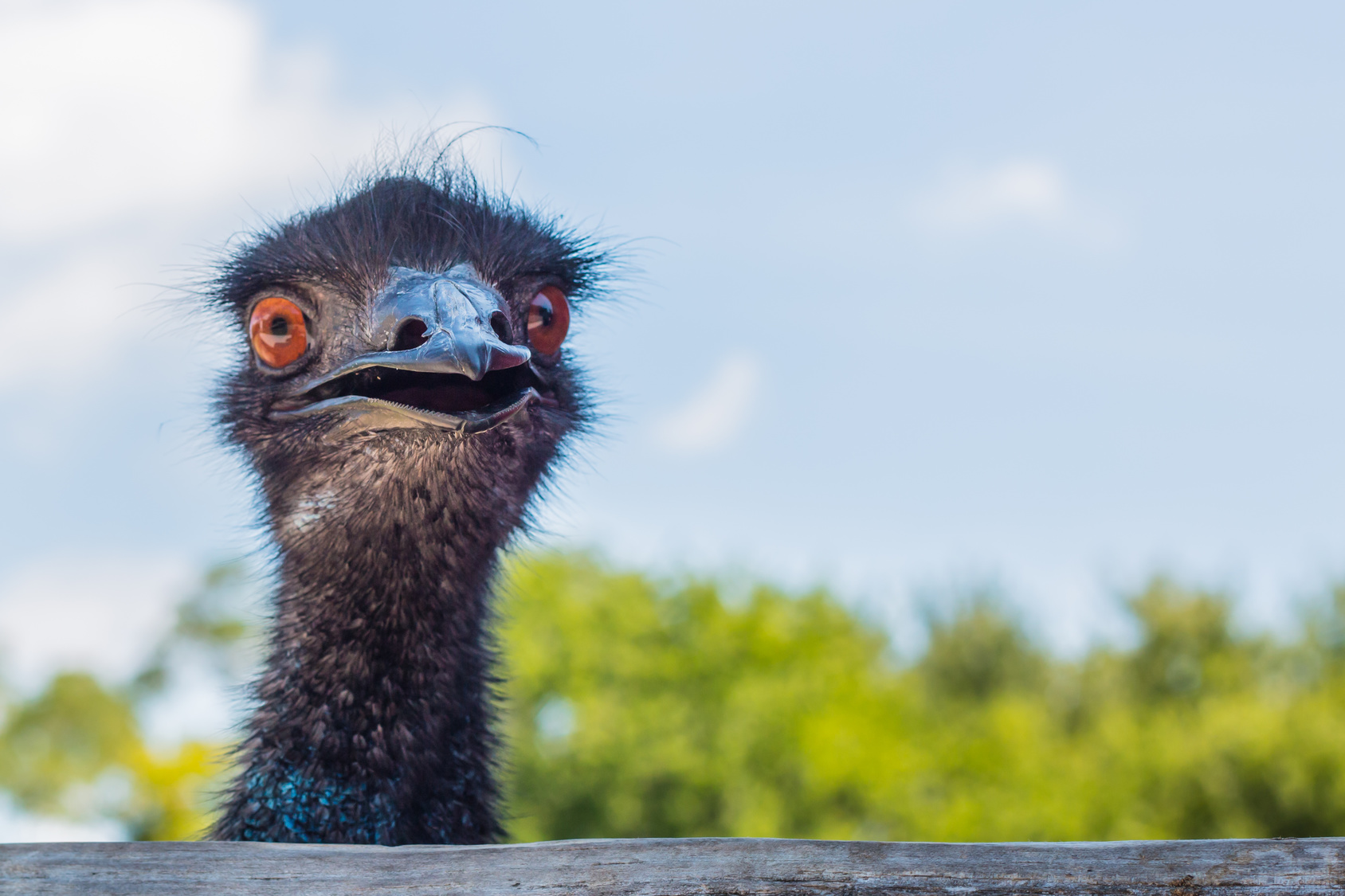 Is it safe to eat leftover food that was left out on the counter to cool, then forgotten for a few hours?
No, if food has been left in temperatures over 40° F for more than 2 hours, it should be discarded. Pathogenic bacteria will not usually affect the taste, smell, or appearance of a food.
What about storing or freezing leftovers?
Leftover meat should be placed in the refrigerator within 1 to 2 hours of serving and can be stored in the coldest part of the refrigerator for up to 2 days. Well-wrapped leftovers can be kept in the freezer for up to 3 months.
If I purchase fresh emu that is not vacuum-packed, how do I properly wrap it for the freezer?
Follow these steps:
Use freezer wrap materials such as specially coated freezer paper (place the waxed side against the meat); heavy-duty aluminum foil; heavy-duty polyethylene film; heavy-duty food grade plastic bags.
Re-wrap the emu meat in convenient portions: leave roasts whole but place steaks in meal-size packages. If ground emu has been bought in bulk, repackage in one-pound packages or pre-shaped patties. Put a double layer of waxed paper between steaks and patties.
Wrap the meat tightly, pressing as much air out of the package as possible.
Label with the name of the cut and date.
Freeze at 0 degrees F or lower.
What length of time can I keep emu in the freezer?
Generally, vacuum-packed or well-wrapped ground emu will keep well in the freezer for 6 months. Similarly packaged steaks or roasts will keep for up to a year.
How long can I keep fresh emu meat in the refrigerator?
Vacuum-packed fresh emu steaks and roasts can be kept in the refrigerator 4 to 6 days; similarly sealed ground emu will keep in the refrigerator for 1 to 3 days. Fresh emu meat kept longer than this should be frozen.
Why is the meat so dark?
Emu is an iron rich meat that is naturally a dark cherry red.
How is emu meat sold?
Emu meat is usually vacuum-packed and sold fresh or frozen.
Where does AEA Certified Fully Refined Emu Oil fit into the Emu Oil Trade Rules?
AEA Certified Fully Refined Emu Oil must meet or exceed the standards set in the Emu Oil Trade Rules for Fully Refined Emu Oil – Grade A. This is determined by a sample being sent to an American Oil Chemist Society (AOCS) chemist for an independent analysis. If the analysis of the sample meets the standard then it is registered with the American Emu Association and authorization to use the AEA Certified Fully Refined seal is granted. The AEA Certified Fully Refined seal is the consumers reassurance that a third party tested the oil for purity.
What is the AEA Certified Emu Oil Program?
The certification program was developed to establish quality control measures to ensure that pure emu oil legitimately displaying the AEA Certified Fully Refined seal or being marketed using the corresponding verbiage is a high quality product that meets or exceeds the industry recognized standards for Fully Refined Grade A Emu Oil as defined in the Emu Oil Trade Rules (rule 103).
Both the verbiage "AEA Certified Fully Refined'TM" and the registered seal are trademarks of the AEA and can only be used by AEA members with board approval. Unauthorized use of either will be considered trademark infringement and will be dealt with accordingly.
All emu oil product companies, wholesalers and retailers who are members in good standing of the AEA are invited to apply.
For full details click on the following link: http://aea-emu.org/resources/aea-certified-emu-oil-program
What are the Emu Oil Trade Rules?
The Emu Oil Trade Rules outline a grading system for emu oil. It recognizes Grade A, Grade B and Grade C. Each of these grades has a use in various industries. Grade A is used for pharmaceutical, cosmetic & dietary supplements. Grade B is used in some cosmetic and industrial applications. Grade C is crude emu oil and suitable for use in hot process soaps or animal feed. For additional information see the Emu Oil Trade Rules.
Where can I buy emu oil?
Emu farming is currently farm-to-finish so a great many emu farmers handle emu oil sales. If emu oil products are not available in your local stores, AEA will be happy to try to help you find a source. Send your mailing address to [email protected] and we will request participants in our Certified Business Members program send you information. You may also see our online Where to Buy list.
What is the shelf life of emu oil?
It depends on the grade of the oil. Crude emu oil will become rancid very quickly outside of refrigeration. Grade A emu oil is generally considered to have a shelf life of 1 to 1 ¬Ω years, depending on storage conditions. Shelf life can be extended with refrigeration.
Does emu oil really lower cholesterol?
AEA sponsored research at the University of Massachusetts revealed that emu oil not only lowered LDL it raised HDL in hamsters. Comparative Effects of emu and olive oil on aortic early atherosclerosis and associated risk factors in hypercholesterolemic hamsters – Wilson T.A., Nicolosi R. J., Handelman G., Yoganathan S., Kotyla T., Orthoefer F., Binford P. was published in Nutrition Research 24 (2004) 395-406.
I heard that Emu Oil has transdermal properties. What is that and how does it affect me?
This means that emu oil transports products quickly through the skin, getting ingredients to the source of the problem, allowing over-the-counter (OTC) and cosmetic products to work better. Many products contain phospholipids, which make absorption more difficult. Absence of phospholipids makes emu oil highly penetrating and allows it to absorb through the skin more easily. Studies by Dr. Robert Nicolosi, Director of The Center for Chronic Disease Control and Prevention, University of Massachusetts, suggest that the delivery of nutrient properties directly into the blood stream might be greater with emu oil than other oils currently being utilized daily within hundreds of current across-the-counter remedies.
I heard that Emu Oil has anti-inflammatory properties. What does this mean and how does it affect me?
When inflammation is reduced, pressure is relieved and there is relief from pain. In some cases, wounds heal quicker. In research conducted by Dr. Robert Nicolosi, Director of The Center for Chronic Disease Control and Prevention at the University of Massachusetts, it was concluded that topically applied emu oil has anti-inflammatory properties. Antagonism of croton oil inflammation by topical emu oil in CD-1 mice was published in Lipids. 2003 June.
But since it is oil, won't it clog my pores?
Not emu oil. The Department of Dermatology, at University of Texas Medical School, showed that emu oil in concentrations of up to 100% is non-comedogenic (will not clog pores). This is one reason it is so popular in cosmetic applications.
Isn't emu oil greasy?
No. Emu oil is a superior skin moisturizer; it is absorbed into the skin quickly and there should be no residue left behind.
What about pharmaceutical or cosmetic grades?
These are in-house grading terms used by some product companies. Since the criteria for in-house grading systems may vary from company to company despite their use of similar terms, the consumer should request more information from the company to determine if the oil is safe for the intended use.
What is emu oil and where does it come from?
Emu oil is a natural, omega rich oil refined from the fat, a food co-product obtained when the bird is processed for its lean red meat.
What refining method does the AEA recommend for emu oil?
The American Emu Association (AEA) does not endorse or recommend any particular method of emu oil refining. The AEA does insist that whatever method of refining is used, the emu oil must match the fatty acid profile parameters for pure emu oil and that it meets or exceeds the standards for Fully Refined Emu Oil – Grade A as listed in the Emu Oil Trade Rules guidelines.